By: Chris Miller, Associate Editor, Grandview High School
The beginning of the school year has always been a fun time for me. Seeing middle school students come in from one year to the next and see the changes in their height and how much different they are now from last year is something astonishing to see as their teacher. And when you teach middle school physical education, you notice the physical changes, especially in students that participate in athletics. This school year, however, I noticed something that I was unfamiliar with in this age of students. When having conversations with several students, who played 7th grade basketball last year for our school, I made this disturbing observation.
As usual, I tend to spend the first few days of my physical education class trying to make sure I make connections with all of my students, so I can get to know them better. Even as the head boys basketball coach in the high school, I want to have a great relationship with any student who might be interested in playing basketball; but as the P.E. teacher, I want athletes that will play sports in all three seasons: Fall, Winter, and Spring. When I talk to students who I know play multiple sports, I'll ask them how their summer went and how football, cross country, or volleyball practices are going (those are the only three Fall sports we offer to middle school students). After that, I always tell them to keep working hard, and make sure to be ready for basketball season this Winter. During a conversation with one of our best 8th grade athletes about football practice, I was shocked to learn that he was not playing this season. When I asked why, his response was even more shocking:
"Coach, I just want to focus on basketball right now."
Wait… What? This is an 8th grader was telling me this; it wasn't even a high school kid!
Who is planting these ideas in this kid's and parents' minds?
Now as a basketball coach, part of me felt really good about the relationships that have been developed by myself and my coaching staff to have this sort of athletic kid desire to spend his time on nothing but basketball. After five years of cultivating interest in your sport, there's a certain level of satisfaction that came with hearing those words come out of that 8th grader's mouth, especially when it seemed that it was easier to pull teeth back then than to get kids to want to play basketball. Now, numbers are higher than ever in students coming out to play for basketball. However, my small inkling of satisfaction quickly shifted to dismay. This student was a 3-sport athlete. He was the kind of player you wanted in your program: he had grit, spunk, hard-working, coachable, and excelled in any sport he participated in. I began to wonder why he didn't want to play. Did I say something to discourage him from playing another sport? Did I not promote multiple sports? Is there something going on at home? These and many other questions quickly filled my mind after hearing his reply. I tried to reason with him and mention how well he played at football and running track last year as a 7th grader. Before I could rattle off too many reasons to play, he threw another curveball at me:
"My parents said I need to pick a sport and focus on being good at it."
In my coaching experience, there's always been a few players that I have lost to other sports, where there has been an emphasis on just one sport. Sometimes, these kids feel that they have a legitimate shot at playing at the next level, and want to keep that hope alive by avoiding injury. Sometimes it's the parents that have those hopes of college and fear of injury. Other times, it's the coaches. Yes, the coaches. We are all guilty of wanting that player to choose basketball, or whichever sport we coach, above all others. As coaches, we must recruit our players for other coaches to play other sports in the school. Whether we like it or not, whether other coaches are promoting basketball or not, we have to do our part to move our players and parents away from the idea that they need to be specialized, playing only one sport. Even if it means us, as coaches, swallowing some pride when doing it.
The fact is we actually need these players to be diversified in their sports participation. Basketball is a long, grueling sport that covers four months of the school year from November to February… and that's not counting pre-season and off-season activities. As coaches, basketball is 24 hours a day, 365 days a year mindset. Even on summer family vacations, a basketball coach's mind can drift off into offensive sets against man-to-man defense with 10 seconds left in the quarter (well, maybe that's just me). But our players will most likely not share the same mindset. Some might, but those are few and far between. The main reason we shouldn't want our players to specialize in any sport is to prevent athlete burnout. Again, basketball is a long season, with a long off-season. I'm not saying that you should end your February/March post-season speech with, "Good job this year, guys. I'll see you this November." Even though a player diversifies his sports participation, the goal is to have the player still make as many of the off-season activities as possible. You don't want to burn the kid out on playing basketball, but if they are participating in other sports' off-season activities, as well as basketball, they are getting a diverse taste of athletic competition and skill development, which will keep them from being slammed with the same sport over and over from season to off-season. High school athletes who specialize in a single sport are 70 percent more likely to suffer an injury during their playing season than those who play multiple sports, according to a study released by a study from the National Federation of High School Associations. So not only can these players get burnt out psychologically, they are at greater risk of jeopardizing their futures physically.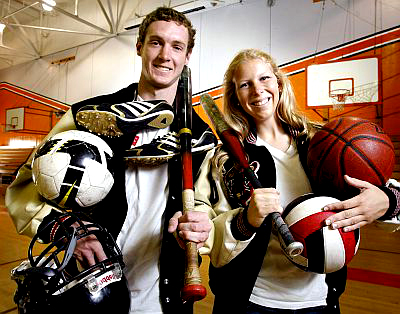 Fact is the idea that young athletes need to focus on one sport is a mislead ideology that has grown in the minds of parents and athletes in the last several years. Whether it's the selfish high school coach, or the 500 select baseball coaches who play 950 games over the course of the year, somewhere along the way, the idea that has spread like a disease in our youth. Now, it seems to be trickling down into our middle schools.
As basketball coaches, we must continually promote multi-sport participation from our players. It is easy to be selfish, wanting that player to be all-in for basketball. But selfishness for our sport cannot come before the welfare of our players. Studies have proven it. We, as basketball coaches, know the facts. We have to strive to educate our players and parents so they are not uninformed on the issue. If there is a chance at playing at the next level, or for even the sake of injury risk, we must continue to promote sports diversification in all of our students and athletes. If we don't make the effort for this cause, we will soon have T-ball players telling us they need to focus on their hitting. Let's help kids be kids and get the most out of their once-in-a-lifetime experience of youth.